Posts tagged 'Solar Panels'
On a dirt plot near Bakersfield where a massive refinery once churned out gasoline and asphalt, one of the world's largest oil companies is looking for something more green.
On Monday, Chevron Corp. plans to reveal that it has transformed the 8-acre site into a sprawling test facility with 7,700 solar panels. The panels, in various sizes, represent seven cutting-edge photovoltaic technologies from seven companies that Chevron is checking out as possible candidates to power its operations worldwide.
Chevron, which has operations in 100 countries, said it was looking for panels that cost less and are more reliable and efficient than what's available today.
"We're quite a large company that uses quite a lot of energy," said Des King, president of Chevron Technology Ventures, a division that looks for and evaluates new technologies including those in alternative energy.
Cost savings from past energy efficiency efforts have been significant, the company said. Since 1992, when Chevron began tracking its power use and using hydrogen fuel cells and solar panels at its facilities, the company cut its energy use by nearly a third and saved nearly $3 billion, King said.
The test complex just outside Bakersfield is the latest in a move by large companies to tap emerging technologies as a way to cut energy costs.
BP Solar, a subsidiary of British oil behemoth BP, designs, manufactures and markets solar products and says it invests more than $10 million annually in photovoltaic research and development. Royal Dutch Shell has invested more than $1 billion in alternative energy projects in the past.
For its part, Chevron said it plans to spend at least $2 billion more over the next three years on renewable power ventures and research.
"All the companies are going about it in different ways," King said of Chevron's competitors. "Our goal is to be an early adopter."
Chevron researchers will study how the panels perform against a benchmark system provided by Japanese firm Sharp Electronics Corp. The entire system, known as Project Brightfield, cost "millions of dollars" to develop, said Sean Connors, assistant project manager for the complex. He declined to disclose the exact cost of the venture.
The installation sits on the site of a former refinery tank yard that Chevron used from the early 1900s until 1986 and was later demolished.
Six of the solar panel companies — Sharp, Abound Solar, Schuco, Solar Frontier Ltd., Solibro and MiaSole of Santa Clara, Calif. — provided thin-film panels, which are known for their low manufacturing cost. Innovalight Inc., based in Sunnyvale, Calif., was the sole supplier of crystalline-silicon panels, which tend to be more expensive but are often better at converting sunlight into power.
The sloping panels will produce about 740 kilowatts of electricity that will be used to power the pumps and the pipelines operated at Chevron's Kern River oil field facility nearby. Extra power will be transferred to the local Pacific Gas & Electric Co. utility grid under a metering system that gives Chevron credit for the excess energy.
Chevron and the other participating companies will have access to data transmitted wirelessly from the project, including reactions to different weather conditions. Chevron expects to take three years to decide which of the technologies it wants to implement at its offices and production sites.
But the company said it plans to continue using the electricity produced from the facility for 25 more years.
Chevron began planning the project in early 2008. A team scouted more than 180 companies as potential participants, scouring the Internet for information and meeting in person with executives.
After narrowing the field to the final seven firms and battling other Chevron proposals for funding, Project Brightfield sped through the local permitting process and completed construction late last year.
Click HERE for source
Not long ago, people who wanted to generate their own green energy at home had to content themselves with rooftop solar panels.
But new technologies — and hefty government subsidies — are now allowing homeowners to tap the wind, the Earth and other renewable sources in their own backyards.
Call it the green evolution.
The cost of heating and cooling with fossil fuels has nowhere to go but up, thanks to rising global demand and increased regulation of carbon emissions. Turning one's home into a clean mini-power plant is getting cheaper and easier all the time.
Here's a look at three technologies that some California residents are using now to cut utility costs while turning their homes into truly green houses.
Small wind
Californians driving along gusty interstates near such places as Palm Springs are accustomed to seeing commercial wind farms, where turbines as tall as buildings spin lazily against a blue sky.
These days, a modest but growing number of people are using a downsized version of that technology inside their own fence lines.
Roughly 10,500 small turbines were sold to homes, farms and businesses nationwide in 2008, according to the American Wind Energy Assn. Though 2009 figures aren't yet available, demand last year remained strong despite the recession, said Elizabeth Salerno, the association's director of data and analysis. A survey of small-turbine manufacturers has projected a thirtyfold increase in the U.S. market by 2013.
Locally, some of the growth comes from companies eager to lower their electricity costs. In Palmdale, for instance, city officials are allowing businesses to install wind turbines up to 60 feet high. Among them is Wal-Mart Stores Inc., which has a 17-turbine project planned for its Sam's Club store in Palmdale.
But interest is also surging among people such as Ernest Ramirez. He and his wife live in Oak Hills, an unincorporated, blustery section of western San Bernardino County dotted with spacious homes on multi-acre lots. The couple weren't looking to install a wind turbine. Their 3,250-square-foot home, which they purchased in 2003, just happened to come with one.
Ramirez can't imagine life without it now.
Perched on a slender tower about 80 feet high, the 10-kilowatt turbine has three 10-foot-long blades that whip often enough to keep his power bills from Southern California Edison at about $100 a month — roughly a quarter of what he calculates he'd fork out otherwise.
Gusts are so fierce in this part of the Cajon Pass that they have been known to snap trees and jackknife semi-trucks. But Ramirez welcomes a bad hair day.
"When I get out of my car and it's blowing 35 mph and I have to stay inside the house, at least I know I'm saving money," said the 46-year-old grant writer. "Wind is such a precious resource."
Ramirez said he could count seven neighbors with their own wind turbines. Still, what works in windblown, rural San Bernardino County won't necessarily fit everywhere.
For a turbine to make economic sense, the AWEA said, a homeowner considering one should live in an area where 10-mph winds are frequent and be paying at least 10 cents a kilowatt-hour for electricity. Permitting is also a challenge in many communities; some neighbors consider the spinning contraptions ugly.
The technology certainly isn't cheap, running about $3,000 to $6,000 per kilowatt installed, or about $40,000 for a system large enough to power a typical home, according to the AWEA.
Subsidies are helping to soften some of that sticker shock. Homeowners can get a hefty rebate from the state of California — up to $12,500. They're also eligible for a 30% investment tax credit from the federal government.
For full article click HERE
At a recent solar energy conference in Anaheim, economic development officials from Ohio talked up a state that seemed far removed from the solar panels and high-tech devices that dominated the convention floor.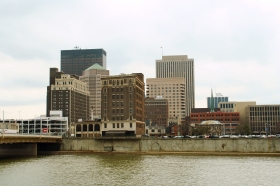 Ohio, long known for its smokestack auto plants and metal-bending factories, would be an ideal place for green technology companies to set up shop, they said.
"People don't traditionally think of Ohio when they think of solar," said Lisa Patt-McDaniel, director of Ohio's economic development agency. But in fact, the Rust Belt goes well with the Green Belt, she said.
For all of green tech's futuristic sheen, solar power plants and wind farms are made of much of the same stuff as automobiles: machine-stamped steel, glass and gearboxes.
Article continues: http://www.latimes.com/business/la-fi-rustbelt-greenbelt23-2009nov23,0,3232106.story