Posts tagged 'Norway'
Four nations proposed guiding principles for "green funds" on Wednesday, hoping to end deadlock at U.N. talks on ways to manage billions of dollars to help the poor cope with global warming.
"Financing will need to be scaled up significantly and urgently, starting fast and rising over time," Britain, Australia, Mexico and Norway said in a joint submission to the December 7-18 meeting in Copenhagen on a new U.N. climate pact.
They said that at least 50 percent of any public finance should go to helping developing countries adapt to warming such as droughts, floods or rising sea levels, along with funds to help curb rising emissions.
But a document by the four nations did not set any figure for total funds to help developing nations. The United Nations says that it wants $10 billion a year for 2010-12 to help kick-start a deal with far more cash toward 2020.
It estimates that the total bill for fighting global warming may reach $300 billion a year in the long run, such as shifting away from fossil fuels toward green energies such as wind or solar power.
"We need predictable long-term funding," said Hanne Bjursrom, a Norwegian cabinet minister who heads the Norwegian delegation. "But this isn't a document that says 'this and this is how it should be done'."
She said the paper marked progress because it was proposed by three developed nations with Mexico, one of the richest nations among developing nations.
COSTS, EMISSIONS
Disputes over who should pay the costs are one of the main causes of friction at the U.N. talks, along with splits about how far developed nations should cut emissions by 2020. Poor nations want much deeper cuts than those on offer.
The document noted that Mexico has in the past suggested that all countries should pay into a fund that would be raised based on factors including gross domestic product, population, and use of carbon dioxide.
The document also mentioned a Norwegian proposal that some carbon emission allowances could be auctioned off to raise cash.
It said that there was an "emerging consensus" that any funds should be overseen by a high-level board with equal representation of poor and rich nations.
Developing countries accuse the rich of seeking to tie too many strings onto handouts. Rich nations want to ensure they have good oversight of donor funds.
After wind, sun, currents and tides, a company is preparing to make clean electricity by harnessing another natural phenomenon, the energy-unleashing encounter of freshwater and seawater. Taking a step further in the planet's hunt for clean power, Norway is to unveil today the world's first prototype of an osmotic power plant on the banks of the Oslo fjord. The project is small-scale but could prove the great potential of osmotic energy.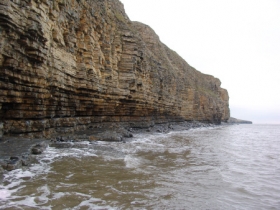 "It is a form of renewable energy which, unlike solar or wind power, produces a predictable and stable amount of energy regardless of the weather," explained Stein Erik Skilhagen, in charge of the project at state-owned Statkraft, which specializes in renewable energies.
Osmotic energy is based on the principle that nature is constantly seeking balance, and plays on the different concentration levels of liquids. When freshwater and seawater meet on either side of a membrane — a thin layer that retains salt but lets water pass — freshwater is drawn towards the seawater side. The flow puts pressure on the seawater side, and that pressure can be used to drive a turbine, producing electricity.
For full story click HERE
Norway could become "Europe's battery" by developing huge sea-based wind parks costing up to $44 billion by 2025, Norway's Oil and Energy Minister said on Monday.
Norway's Energy Council, comprising business leaders and officials, said green exports could help the European Union reach a goal of getting 20 percent of its electricity by 2020 from renewable sources such as wind, solar, hydro or wave power.
"Norway could be Europe's battery," Oil and Energy Minister Aaslaug Haga told Reuters after she was handed the report, which will be considered by the centre-left government in coming months.
"The thinking is that Norway is blessed, is lucky, to have big energy resources. There is undoubtedly a large potential for wind power," she said. Norway says it has the longest coastline in Europe, from the North Sea to the Arctic Barents Sea.
The 30-page report, mapping out a big shift for the world's number 5 oil exporter, said: "Norway ought to have access to up to 40 terrawatt hours of renewable energy in 2020-2025, of which about half would come from offshore wind power."
Sufficient wind parks — totalling 5,000 to 8,000 megawatts installed capacity — would cost between 100 billion Norwegian and 220 billion Norwegian crowns ($43.89 billion) assuming prices of 20-28 million crowns per installed megawatt.
The energy would be equivalent to up to about eight nuclear power plants. Norway pumps about 2.2 million barrels of oil per day — $44 billion represents the value of about half a year's output.
WIND, HYDRO
Haga said offshore wind parks — which would stop on calm days — could be supplemented by hydro-power reservoirs which can be turned on and off to turn them into a battery storing power. Norway has about half Europe's reservoir capacity.
"We can deliver a product whether the wind is blowing or not," she said. Haga will meet EU Energy Commissioner Andris Piebalgs in Brussels on Thursday, partly to discuss the report.
It said Norway still needed new laws, competitive subsidies and more infrastructure. Norway sometimes has problems supplying even its own electricity needs with its existing hydro-power.
And it said that Denmark, Germany and Britain had done much more to develop wind power, both on land and in shallow waters. Norway's advantage was wide experience from deeper offhore oil and gas installations.
StatoilHydro (STL.OL: Quote, Profile, Research, Stock Buzz) said last week that it will invest $80 million to build the world's first full-scale floating wind turbine to start up in 2009. Power from such installations is likely to be more costly than on land.
The report said that Norway would have to agree long-term wind supply contracts with EU countries, including access to EU subsidies. But Haga also said: "I don't expect Europe to subsidise Norwegian wind power producion."
"It's not a first choice to import power," said Steinar Bysveen, who led the report. He said EU nations such as Germany might need imports because of a lack of space to build wind parks at home and plans to phase out nuclear power.
The Energy Council report said that 40 terrawatt hours of electricity from wind could cut 20 million tonnes of heat-trapping carbon dioxide emissions, blamed for stoking global warming. Norway's 2007 emissions were 55 million tonnes.