Posts tagged 'Emissions'
From: David A Gabel, ENN
Published May 4, 2010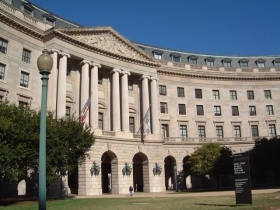 The US environmental Protection Agengy (EPA) is currently issuing a new proposal to cut mercury emissions by more than half as well as other pollutants from boilers, process heaters, and solid waste incinerators. Toxic air emissions have been shown to cause cancer and other serious health problems for affected people. The main purpose of this proposal would be to reduce health and environmental risk in a cost-effective way. The EPA estimates that the new rules would yield more than $5 in health savings for every dollar spent in implementing the rules.
"Strong cuts to mercury and other harmful emissions will have real benefits for our health and our environment, spur clean technology innovations and save American communities billions of dollars in avoided health costs," said EPA Administrator Lisa P. Jackson. "This is a cost-effective, commonsense way to protect our health and the health of our children, and get America moving into the clean economy of the future."
Mercury has been shown to be extremely harmful to human health. It can damage the brains and nervous systems for children developing both before and after birth. Mercury in the air eventually is absorbed into the surface water where it can build up in freshwater and ocean marine life. This is highly toxic for people who eat the contaminated fish. The mercury contamination can lead to fish consumption advisories to protect public health.
Efforts at reducing mercury emissions are nothing new. Pollution controls on Mercury were started in the early 1990's and have gotten progressively tighter. The most recent proposal is another step in tightening the regulations.
The EPA estimates that mercury emissions will be reduced from about 200,000 industrial boilers, process heaters, and incinerators. Health benefits are estimated to be between $18 and $44 billion per year. The new rules would prevent from 2,000 to 5,200 premature deaths and roughly 36,000 asthma attacks per year. Meanwhile, installing and operating the new pollution control devices would require only $3.6 billion under the new rules.
This is what is known as internalizing the cost for operators of boilers, heaters, and incinerators. Air emissions are an externality. Once the air emissions are released, they are no longer the responsibility of the plant operator. However, members of the public have to pay for the emissions through higher health care costs. Therefore, the true cost of the operators' actions is externalized to the public. The new rules help to internalize this externality.
Boilers and incinerators at large industrial facilities would have to meet the new emissions limits and also be required to conduct energy audits to find ways to reduce fuel use. Smaller facilities such as schools, commercial buildings, or hotels would not be included in these rules, but would be required to perform tune-ups every two years.
After the rules are published in the Federal Register, the EPA will take comments for 45 days and hearings will be held to assess public opinion. To find more information on the new EPA proposals and details on the public hearings, go to: http://www.epa.gov/airquality/combustion/