Solar Energy Industry Brings Ray of Hope to the Rust Belt
November 23, 2009 at 1:19 PM dpmccarthy Leave a comment
At a recent solar energy conference in Anaheim, economic development officials from Ohio talked up a state that seemed far removed from the solar panels and high-tech devices that dominated the convention floor.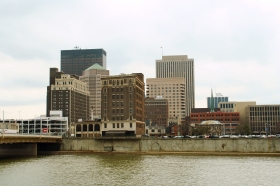 Ohio, long known for its smokestack auto plants and metal-bending factories, would be an ideal place for green technology companies to set up shop, they said.
"People don't traditionally think of Ohio when they think of solar," said Lisa Patt-McDaniel, director of Ohio's economic development agency. But in fact, the Rust Belt goes well with the Green Belt, she said.
For all of green tech's futuristic sheen, solar power plants and wind farms are made of much of the same stuff as automobiles: machine-stamped steel, glass and gearboxes.
Article continues: http://www.latimes.com/business/la-fi-rustbelt-greenbelt23-2009nov23,0,3232106.story
Entry filed under: Conservation, Energy, Green Tech. Tags: Green Tech, Ohio, Solar Energy, Solar Panels.